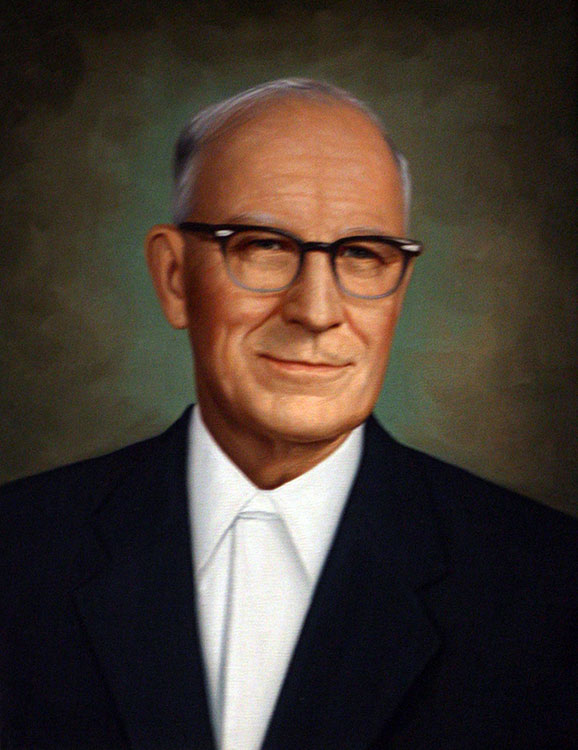 — Co-Founder:
InterChurch Holiness Convention,
" The fact of triumph is inbreathed into every phase of the sanctifying baptism with the Holy Ghost."
H (Hamilton) Robb French was born December 26, 1891 in Denver, CO.  He graduated from Trevecca College (Nashville, TN) in 1915 and went on to become one of the most clear voices for heart purity in the 20th century. On June 23, 1919, he married a grade school girl friend, Geraldine Trusler. She was 26, and he was 27. They had no children. Together they traveled in evangelistic work and God used them in a mighty way all across the United States and around the world in revivals and camp meetings. Robb authored two songs, "I Don't Care What Church You Belong To" and "There's More With Us Than Be With Them" and his wife, Geraldine, wrote the music to these songs.
In the early 1940s, this well-known holiness evangelist sensed the pressing need for a place where earnest- hearted Christians could go in south Florida for spiritual retreat and renewal. They purchased land in Hobe Sound, took pick and shovel and started to grub out the palmetto bushes. They slept in their car and cooked in the bushes on an oil stove. It was a back-breaking struggle, but they rejoiced at God's help and in February of 1948, Sea Breeze Camp Meeting officially held its first services on the grounds in Hobe Sound.
One of the most significant accomplishments of Rev. French's life was the founding of the InterChurch Holiness Convention.  Along with Harold Schmul, he envisioned a movement that could loosely connect holiness people from all denominational backgrounds and all geographic locations.  The vision was for conventions to be held to promote the doctrine of holiness and the need for revival.  These years later, the IHC is a tribute to H. Robb French's vision and passion.  In his later years he was a member of the Alabama Conference of the Bible Methodist Connection of Churches.
The Frenches also had a concern for the elderly, that they might spend their later years in a spiritual atmosphere. So, in 1971, Sea Breeze Manor, a retirement home, was established. Both Robb and Geraldine would live out their declining years at the Manor.
Geraldine passed away in 1978. In the mid-seventies, Robb experienced failing health and was bedfast much of the time, but even to the end he was responsive to prayer. On January 24, 1985, after a few hours in the hospital at Jupiter, Florida, he died a peaceful death. His last words to visiting friends were, "Praise the Lord."
At the age of 93, H. Robb French, pioneer, prophet, and prayer warrior, was reunited with his beloved Geraldine and the Christ he adored — their family circle was complete.
Born
Hamilton Robb French
December 26, 1891
Denver, CO
Parents
Rufus and Rebecca French (Lawrence, Kansas)
Married
Geraldine Trusler (Eskridge, Kansas)
June 23, 1919
Children
No Children
Education
Trevecca College
Founded
Sea Breeze Camp, (Hobe Sound, FL)
Authored
"I Don't Care What Church You Belong To"
"There's More With Us Than Be With Them"
The Revival Secret, 1934
Sea Breezes, 1971 (a book of poems)
Death
January 24, 1985