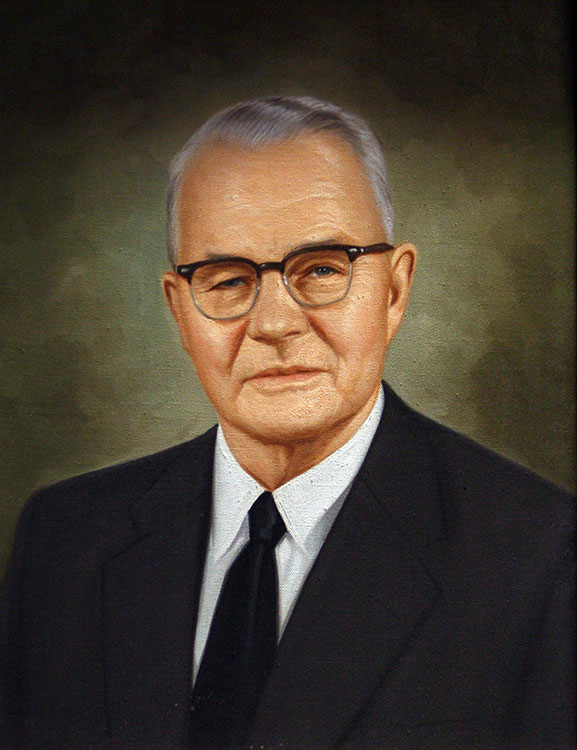 "The evidence of my love for God is expressed in my desire to please Him."
On March 18, 1895, Stephen Isaac Emery was born in Monterey, Michigan. At the age of 23, on September 4, 1918, he married his love, Lelia M. Smith in Allegan, Michigan. The Emerys' home was blessed with thirteen children but a set of twins died in infancy. Rev. Dr. Emery pastored churches in Michigan, Colorado and New York. From 1942 to 1946 he was a member of the General Board of the Pilgrim Holiness Church. When S. I. Emery preached he would soar in eloquence as he expounded on many of our Christian doctrines, but he gave a special emphasis on Christ's atonement in particular. Blessed with a deep, bass voice, usually preaching without a note in front of him, this dear brother's passion for Christ and the Cross were both intense and genuine. Often early in his sermon he would have a handkerchief in hand, dabbing his nose, giving an occasional sniff, while his voice quivered as he tried to control his emotions. Rev. Emery not only would preach and teach the Word of God, but he was also known for his deep prayer life. He was as well-versed in the Scriptures as any person, and when he prayed, he would recite appropriate Scriptures. One could not listen to him pray without concluding that he knew God.
Rev. Emery was not only an eloquent preacher but also a great teacher. He served on the faculty of Colorado Springs Training School for four years, Bethel College in Indiana for twelve years, in Cedar Springs, Michigan for three years, Frankfort Pilgrim College for two years and stints at Kansas City Bible College and Covenant Bible College. He was commissioned a second doctorate and was a retired minister lieutenant during World War I. On Friday, September 30, 1977, at the age of 82, Rev. Emery died at his home after an extended illness. He "fought a good fight", he "finished the course", and he had "kept the faith" henceforth he was awarded his "crown of righteousness".
Born
Stephen Issac Emery
March 18,1895
Monterey, Michigan
Married
Lelia M. Smith (Allegan, Michigan)
Sept 4, 1918
Children
Stephen Emery
Paul Emery
Sibyl Emery
Dawn Tullis
Juanita Perkins
Rosalind Irwin
Doris Kyle
Lelia Dewalt
Lois Sowers
Dorothy Frye
Marian Emery
Twins (died in infancy)
Authored
A Catechism For Senior Young People
Bible Answers
and Others
Death
September 30, 1977